Parental control apps are on a steep rise as the internet age progresses.
Internet safety has become a priority to parents due to the rise of children's exposure with content that may be harmful on the internet.
Children having access to mobile devices and the internet is an extremely new concept in the grand scheme of things, and parents around the world are learning on the fly how to monitor their children's mobile devices.
Finding the best parental control software is an easier process than it was just a couple of years ago. Luckily there are many quality parental control apps available at your disposal.
The components of these apps include monitoring screen time, your child's location, text messages, social media apps, web filtering and filtering inappropriate content.
Now, lets delve into the specificity of the best parental control apps out there.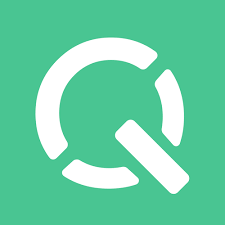 1
Best App for Mobile
Qustodio
Mobile app accountability + Community
Filters
iOS and Android
Free 3 Day Trial
Save 15% with SAFER15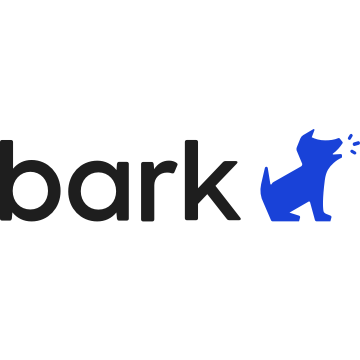 2
Best for Younger Kids
Bark
Full family monitoring + Filtering
Location monitoring
7 Day Trial
Only available in the US

3
Our Top Accountability Pick
Covenant Eyes
Accountability + Filtering
Uses top level VPN filtering
Most affordable
Great support + 30 Day Trial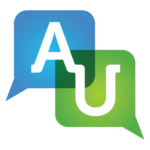 4
Covenant Eyes Alternative
Accountable2You
Screen time monitoring + Filtering
10 Day Trial
Qustodio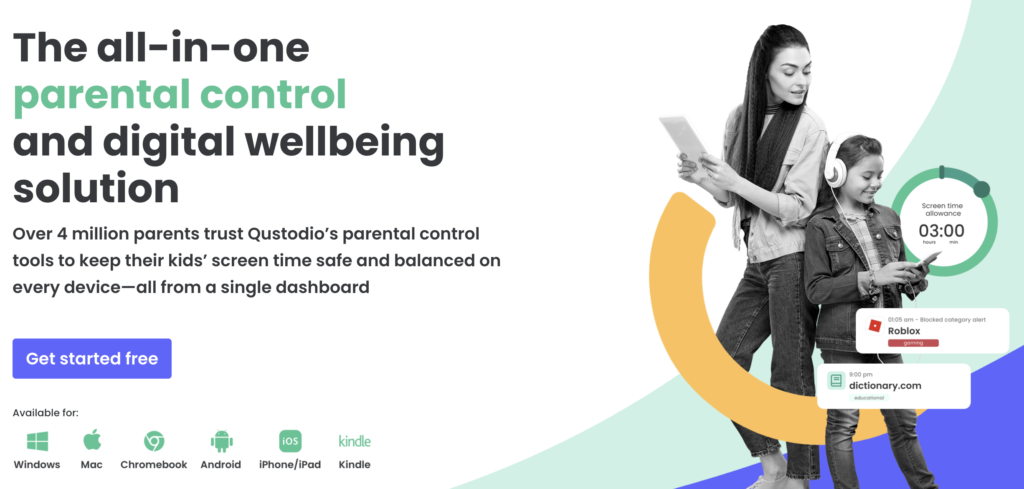 What is Qustodio?
Qustodio is a parental control software company that offers just about every feature that you would want as a parent. Qustodio's objective is to provide a "safer and smarter" experience on the internet for children. Qustodio is available to download on PC, Android and ios devices.
Qustodio is often included in the conversation of the best parental control software that is available. Qustodio offers full access to your child's phone and will send you notifications when your child's device receives certain messages, emails or notifications.
Qustodio also specializes in limiting screen time and location tracking. The company offers protection across all landscapes on the internet in areas where parents should be most aware, but that comes with a price.
Parental control over all features on children's mobile devices
Monitors social media apps, which has been a persistently difficult problem for parents
Location tracking
Screen time management and time limit capabilities
Efficient web filtering
Will monitor multiple devices depending on the package
Expensive services
Location alerts might be delayed
Blocking only lasts till the nearest hour
VPN interrupts the provision of web filters on desktop and mobile browsers
Limited social media tracking – only tracks Facebook
Email-only support results in some degree of unresponsivenes
The price. Usually parental control apps offer a free version of their service, but Qustodio unfortunately does not. Qustodio offers three specific packages that vary in price. The "small" package is $54.95 a year and it covers 5 mobile devices, their "medium" package is priced at $96.95 a year and covers 10 mobile devices and finally, their "large" package is $137.95 a year and monitors 15 devices. The "medium" and "large" packages are definitely considered on the pricier side when compared to other parental control apps, but parents do say it is worth it. It is also worth noting that all three of the packages that they offer, provide the same exact features, but the price increase is explained by the number of mobile devices actually covered.
Bark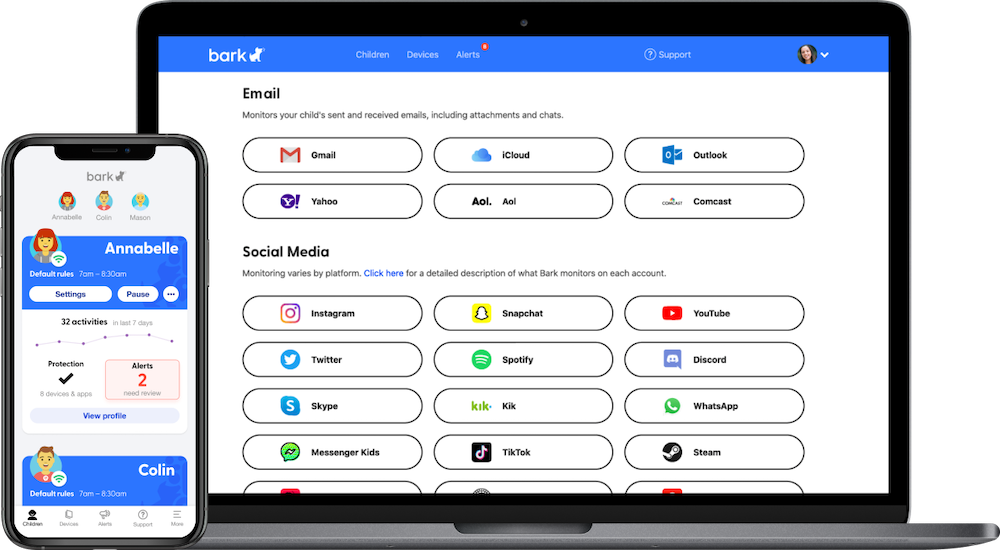 Bark is designed specifically for parental control. Bark is the most popular parental control software out there, and its for a reason. It's clear interface blends well with their target audience as it's mostly parents using it. The real-time notification feature for just about anything on your child's phone with various parental control tools.
Bark also offers two packages, "Bark Jr. and Bark Premium". Bark Jr. is only $5 a month that includes screen time management on your child's phone by giving you the power to implement time limits through the software, ability to block apps, web filtering and notifications for the location of your child's device. Bark premium is $14 a month because it offers specific alerts for cyber-bullying, suicidal ideation, text messages, emails, and social media monitoring. Bark also offers a free version for the first 14 days.
Social media monitoring to limit cyber-bullying
Notifies the parent of every text message and email exchanged back and forth
Tracks child's location
Screen time management
Web filtering
Simple interface
Access to Child's phone
Affordable options
Can be an arduous task to set up the app on iOS
Parents cannot directly filter their kids content as it is machine programmed
While gathering information, it may provide alarming alerts that scare some parents
Bark does not offer customizable internet filtration, which is problematic for parental control. A select few parental control apps offer specific filtering, but it is very expensive. Bark is still considered one of the best parental control apps out there, but parents looking to restrict access to certain websites and apps may not be able to if it already isn't on Bark's list of harmful websites and apps.
Covenant Eyes (For Accountability)
Covenant Eyes is a program that filters porn websites from your device. Covenant Eyes is mainly parental control software, but it is also used by individuals trying to avoid watching porn. Now, Covenant Eyes is a different kind of parental control app, as is primarily focuses on eliminating porn from you or or child's devices. Porn is something that is overlooked when someone is looking for a parental control app, and that is what Covenant Eyes directly targets.
Website filtration
Blocks all kinds of porn
Utilizes artificial intelligence to analyze screenshots
Safe Search
Like I said before, Covenant Eyes is not like the other parental control apps listed earlier. The entire purpose of Covenant Eyes is to just block porn entirely, so it lacks the features that other parental control apps offer.
No social media monitoring
No screen time management
Lack of parental control outside of the internet
No free version and expensive
More compatible with android devices
No time limit capability
No location feature
Unlike the parental control software applications listed above, Covenant Eyes simply lacks the range in terms of protection from the internet besides porn. Parental control apps ideally offer screen time management, access to text messages, time limits on certain apps, the ability to block apps, and social media monitoring, Covenant Eyes offers none of these and offers very little parental control.
Another issue that has been a common complaint about Covenant Eyes, is the lack of quality displayed on ios devices. Users have described their AI feature being clunky and low quality as well as having connectivity problems. Again, it should be noted that this has been an issue with only those who have ios devices, but it is something to think about before purchasing this.
Pricing is also something that has turned people away from Covenant Eyes. It is currently $16.99 a month for this software and especially compared to other parental control apps, it is on the pricier side. The lack of features Covenant Eyes offers and the price can be a reason why Covenant Eyes is not currently in the conversation for being one of the best parental control apps on the market.
Accountable2You
Accountable2You is the swiss army knife for parental control apps. Accountable2You covers all ends of what parents should be concerned about on their child's phone. Accountable2You is not limited to just parent's though, many use this software to keep track of their internet and phone usage in order to self-censor themselves in their pursuit to stop watching porn. Accountable2You tracks everything your child does on their mobile devices. Whether it's internet searches, screen time, location tracking, social media monitoring or messaging tracking, Accountable2You just about covers it all.
Vast parental control capability
Location tracking
Time limits
Social media monitoring
Covers multiple Child's devices
Includes app blocker
Instant alerts on which website your child is on
Has free version for first 14 days
Accountable2you works better on Android than ios
Compatibility issues with Kindle fire
Inability to notify customers when some features have downtime
Does not block porn sites.
Accountable2You just about covers it all. Their notification feature is a favorite, as it lets you know exactly what your child may be up to and if they are viewing something online that may pose a threat. Accountable2You also provides the user with a sheet full of the analytics of your child's internet usage.
There really isn't a common problem with Accountable2You. It is affordable compared to the other parental control apps and it possesses just about all the features a parent would want when keeping their child safe from the internet. The only minuscule issue is that sometimes their VPN can lose connection, but that is really about it.