Are you looking to create a better and safer online atmosphere for your kids? If Yes, I am pretty sure that you've done your diligent research on the best parental control apps for the job? Yes right? Good. Despite your diligent research, you still haven't found the one that does tick all the boxes for you? Yes again? Great. I have just the solution to what you are looking for – QuStodio.
What is Qustodio?
Qustodio is a parental control app that provides parental control features ranging from screen time tracking to SMS monitoring, all with your family's best interest at heart. With its features, parents can actively keep their kids safe online by supervising them the way they want and ultimately helping them build positive digital habits in this age of technology.
Who Can Use Qustodio?
Qustodio is for parents seeking for their children to develop positive and beneficial digital habits. It's for parents looking to supervise their kids the way they want and ensure that their kids live a risk-free and balanced digital life.
Primary Features
Qustodio employs the following features to ensure it's a seamless and hitch-free experience for them.
Apps and Content Filters
Parents can block their kids from accessing inappropriate apps, games, and websites while allowing them only access to websites and content that are children-appropriate, disabling them from seeing potentially harmful ones.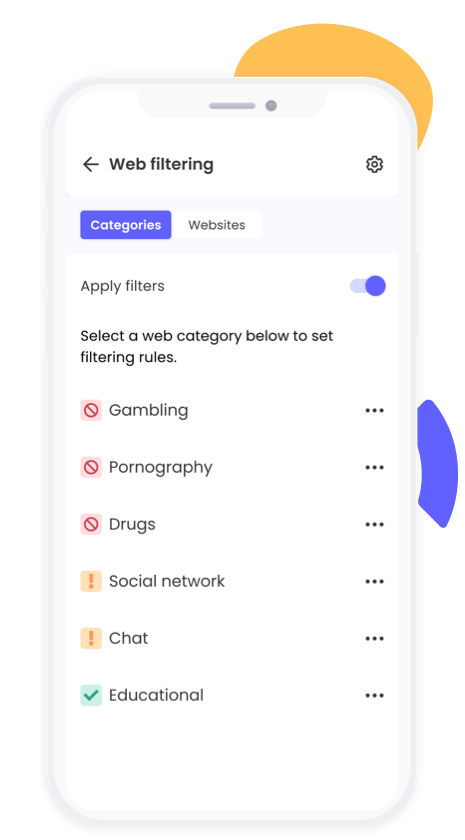 Activity Monitoring
The app provides parents with an accessible real-time overview of their kid's activities on the internet, detailing their browsing history, YouTube views, their use of social media, monitoring the location and screen time, and many more.
Time Limits
This feature enables parents to mitigate screen addiction from their children. Screen addiction is an unwanted habit that could diminish their productivity, hence the need for screen time limits to ensure better sleep routines and family time.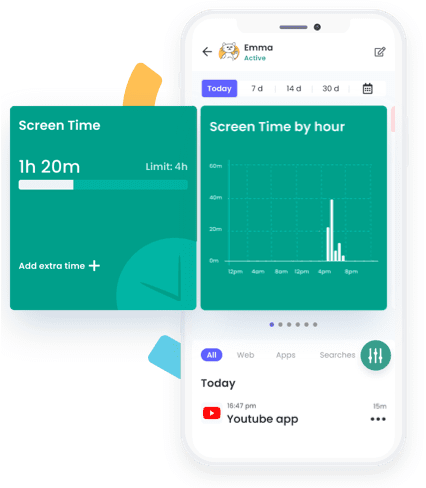 Calls and SMS tracking (Android only)
Parents can now see who their child is exchanging messages and calls with the ability to see what their discussion and texts are about with an added option of blocking calls from certain contacts.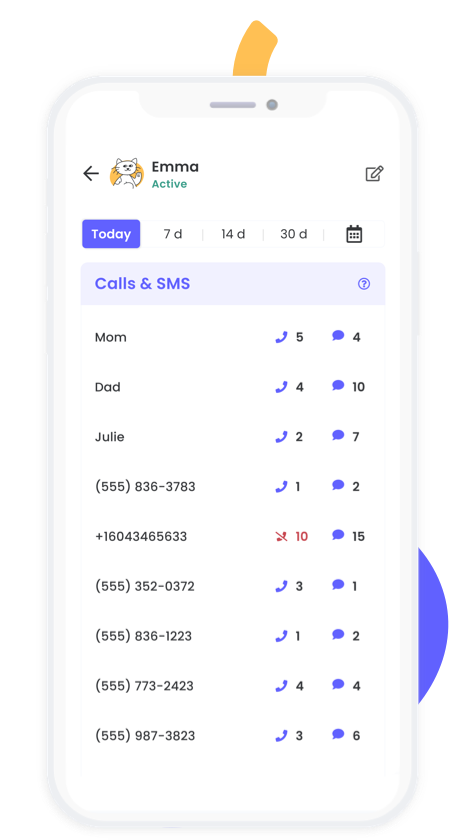 Location Tracking
With the app, you can track the location of your family members on the map. You can see where they've been and when they arrived and have left different locations.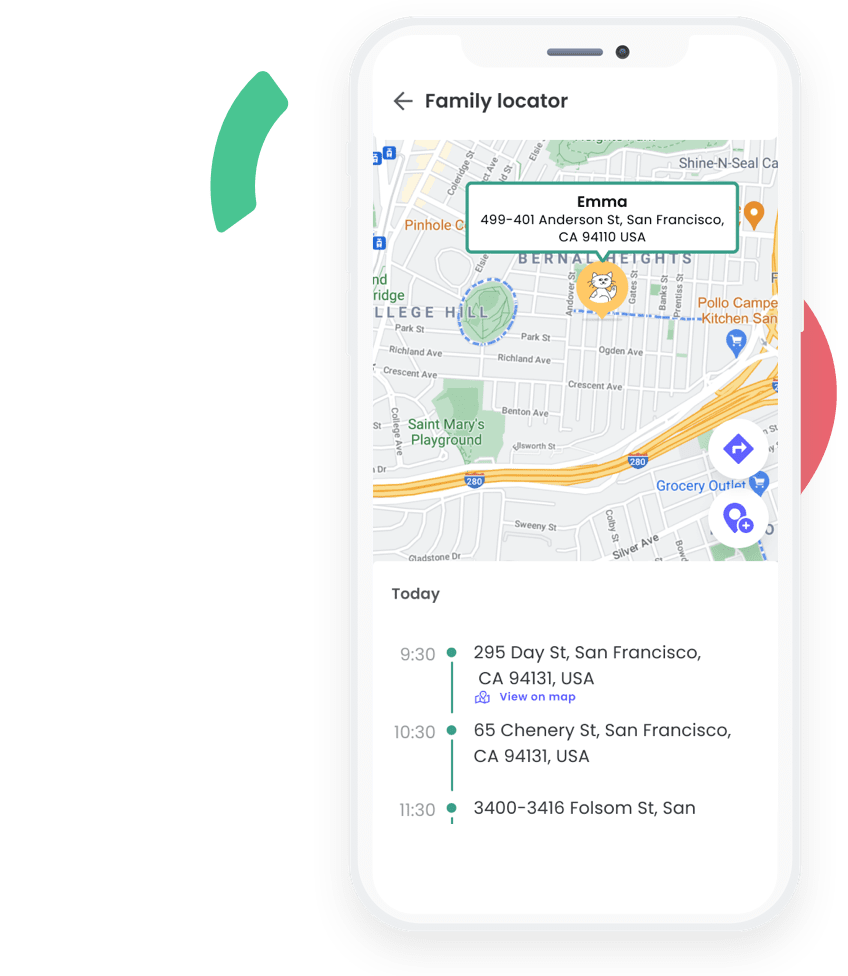 GeoFencing
Besides their location tracking, Qustodio has gone a step higher by allowing parents to define safe areas on the map where their children can visit. Any foray outside of these safe areas would trigger a feature that sends an immediate alert to the parents.
Real-time alerts, Reports, and SOS
On the real-time dashboard, parents can receive daily, weekly, and monthly reports of their child's online activity for a specified period in their mails. They can also set alerts to trigger the app to send an SOS for a certain activity. The panic button is only available on Android.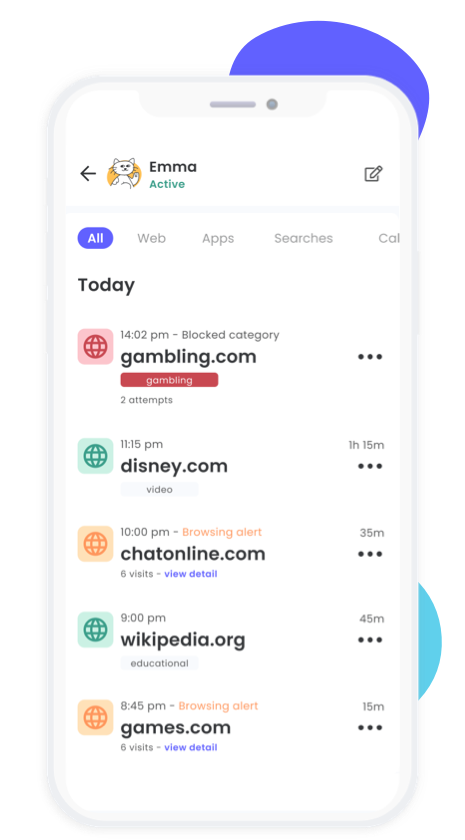 Does Qustodio Have A Trial Period?
Qustodio provides a 3 day free trial period for parents to fully access their premium plan. They also have a permanently free option, where you would have access to limited features when your free trial is over.
Qustodio iPhone Review
Qustodio requires iOS 12 or later to run on the iPhone, but iOS 14 is highly recommended to ensure seamless and hitch-free performance. It is important to note that there is a limit to what the app can do on this platform due to Apple's privacy policy.
Qustodio Android Review
For an optimal user experience, Qustodio requires an Android OS 6 version or higher than that. Usage of the application on older or lower android versions can give rise to compatibility issues. The android version has an added advantage in that it can track calls and SMS.
Qustodio Cost and Pricing
Qustodio, aside from the free plan, has 3 premium plans to cater to the needs of the parents. There's the medium which provides cover for ten devices at $8.08 per month, $96.95 annually, The small plan, which provides cover for five devices at $4.58 per month, $54.95 annually, and lastly, the large plan that provides for 15 devices at $11.5 per month and $137.95 annually. There's a 10% discount this holiday season if parents use the promo code "HOLIDAY10" at checkout.

Alternatives to Qustodio
Qustodio vs. NetNanny
NetNanny is a parental control program that prevents children from accessing adult content while allowing them to surf the internet securely.
Qustodio vs. Bark
In this digital era, Bark gives parents the tools they need to raise their children. Its features allow parents to keep an eye on their children's content consumption, limit their screen time, and filter the websites they visit.
Qustodio vs. Keepers
Keepers is a simple-to-use software for parents who want to foster healthy and secure connections with their children and family. It safeguards their privacy, including private conversations.
Qustodio vs. FamilyTime jr
FamilyTime Jr is a parental control tool that allows parents to limit their children's screen time. Its purpose is to discourage children from squandering time on their smartphones and tablets.
Qustodio vs. Safe Lagoon
Safe Lagoon is a parental control program that helps parents secure their children online, limit their screen time on their devices, and keep them safe from predators and online trolls with offensive content.
Qustodio vs. MMGuardian
On their children's Android smartphones, MMGuardian gives extensive control to parents. With its parental control function, this program can monitor and prohibit text messages, image communications, and other types of messaging.
The Good And The Bad
Easy setting up process
Exquisitely designed user interface
Time limits are comprehensive
Availability of app blocking on desktop and mobiles
Adequate control over app use
Supports various platforms
Records of 30-day location history
Provision of GeoFencing
Provision of a panic button
Availability in eight languages ( English, Spanish, French, Italian, Portuguese, German, Chinese, and Japanese)