Inserting the keyword "parental control" into your device's app store would result in various suggestions popping up your screen. Now while looking to solve a problem, another has arisen. How do I know what app is best for the kids? Don't worry; we are here to help. One of the household names when it comes to parental control, you can rest assured that you are making the right choice engaging the services of NetNanny. With its team always on the lookout to develop new additions and features to the ever-changing scope of the internet, you can be rest assured that nothing will pass you by in your attempt to create a healthy online environment for your kid's safety. Want to know how? Here's why
What Is Net Nanny?
Net Nanny is software that helps parents keep an eye on their kids as it would help them monitor and control their activity on the internet. This parental control software uses artificial intelligence to filter away harmful content on the internet before your kids can see them. It applies a content detection technology to scan every webpage your kid's view or search for instantaneously on the internet.
Who Can Use Net Nanny?
Net Nanny is for parents looking to filter what their kids consume over the internet positively. Information provided by the app can help parents develop a knowledge of how their kids are applying and using the internet. For parents who can't have access to their kids or their phones round the clock, this app lets them keep an eye on their internet surfing activities and step into action when required.
Net Nanny Features
Net Nanny applies the use of the following features to help parents with monitoring their kids' activities. Internet Filter: Parents can control and curate what their kids see on the internet with the use of this app's internet filter. They can decide on which content they want their kids to see to aid their development while also blocking content that they term and feel are dangerous to their development.
Pornography Blocking
With the rate of influx of pornography on the internet with little or no control whatsoever, this app can help parents to limit their kids' exposure to these adult contents or totally block them away in real-time.
Screen Time Management
To ensure premium and optimum productivity, this app enables parents to limit their kids' screen time and lets them focus on what needs to be focused on when they need to.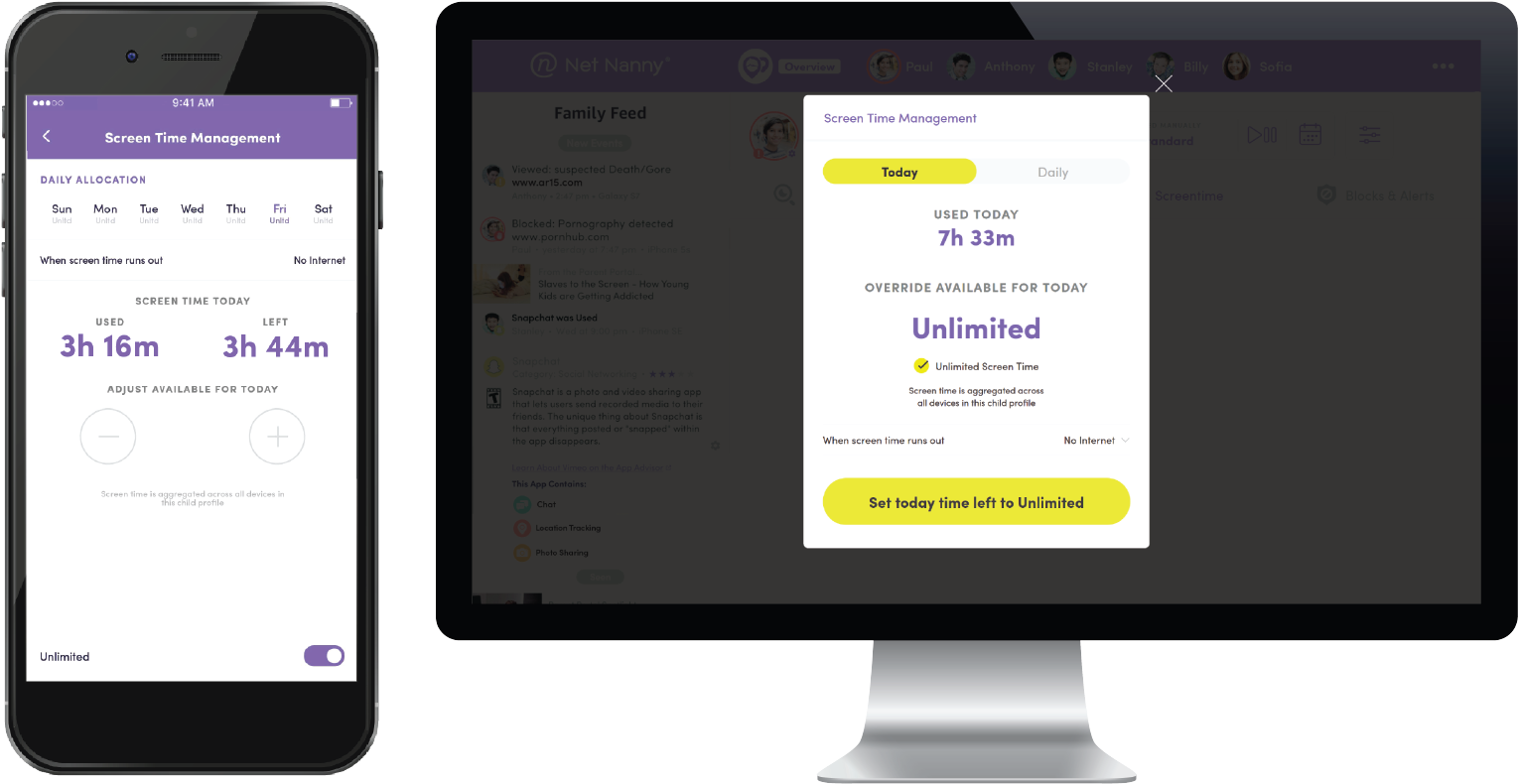 App Blocking
Parents can now block apps on their kid's devices with the app's inbuilt parental control software. You can dictate which app they can use and have access to at any time of the day.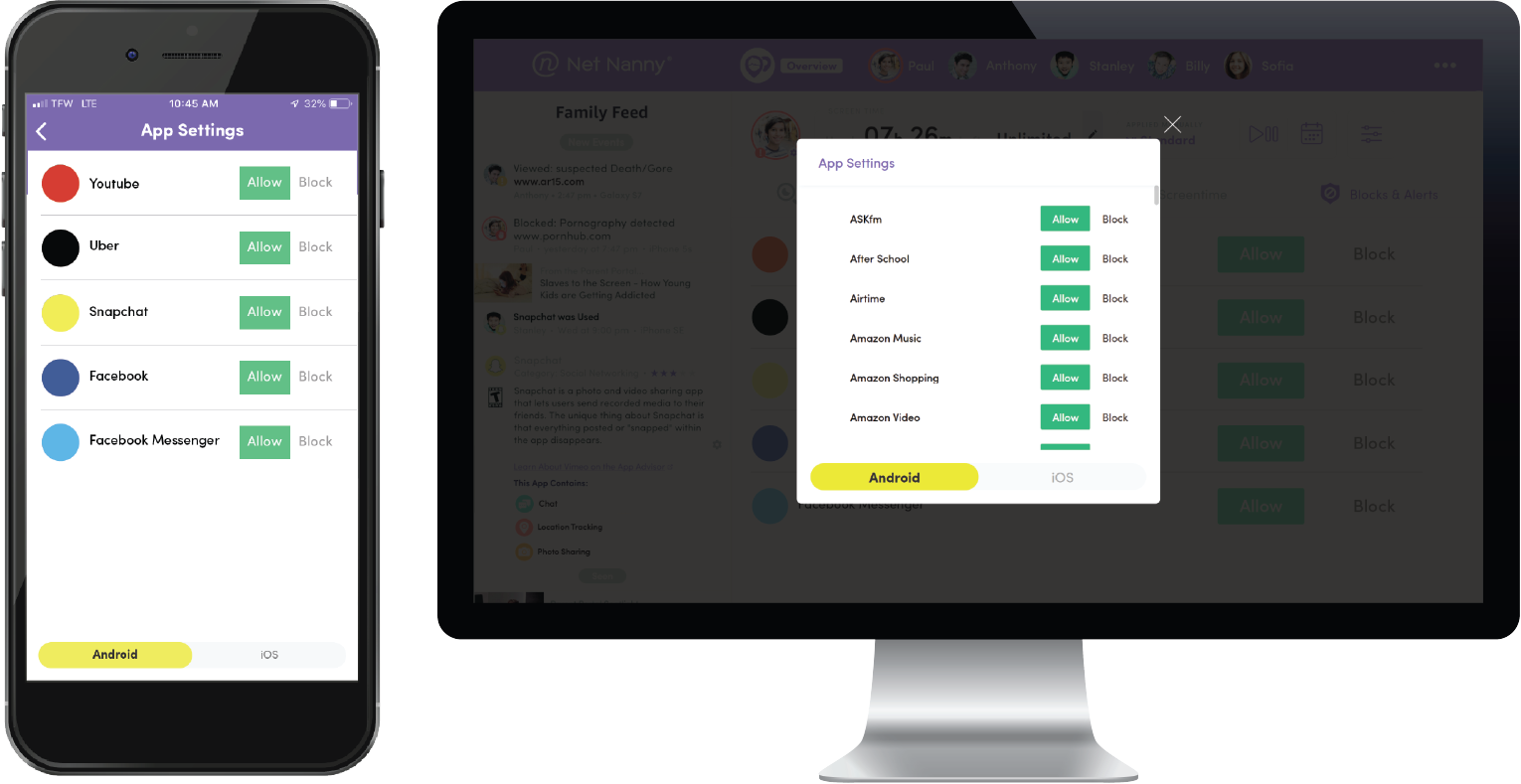 Website Blocker
In addition to its ability to block apps, the app applies its effective website blocker to restrict your kids from accessing websites that you might deem harmful to their progress.
Location Tracker
Keep track of your kid's location and whereabouts with Net Nanny's smart location technology via their devices.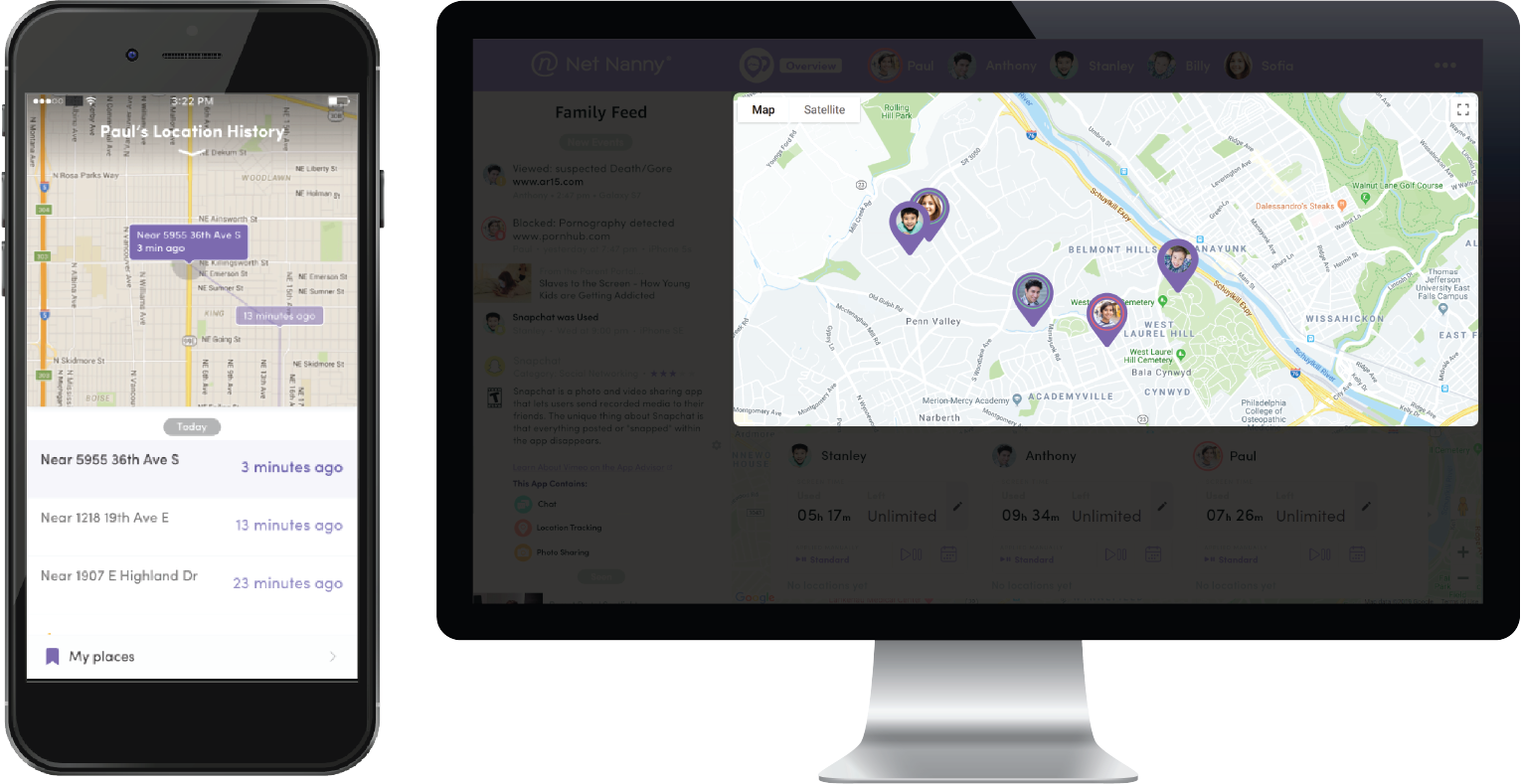 Alerts and Reporting
The app gives parents real-time alerts and up-to-date reporting of their kid's internet activities, including their attempts to use websites and apps deemed inappropriate by you.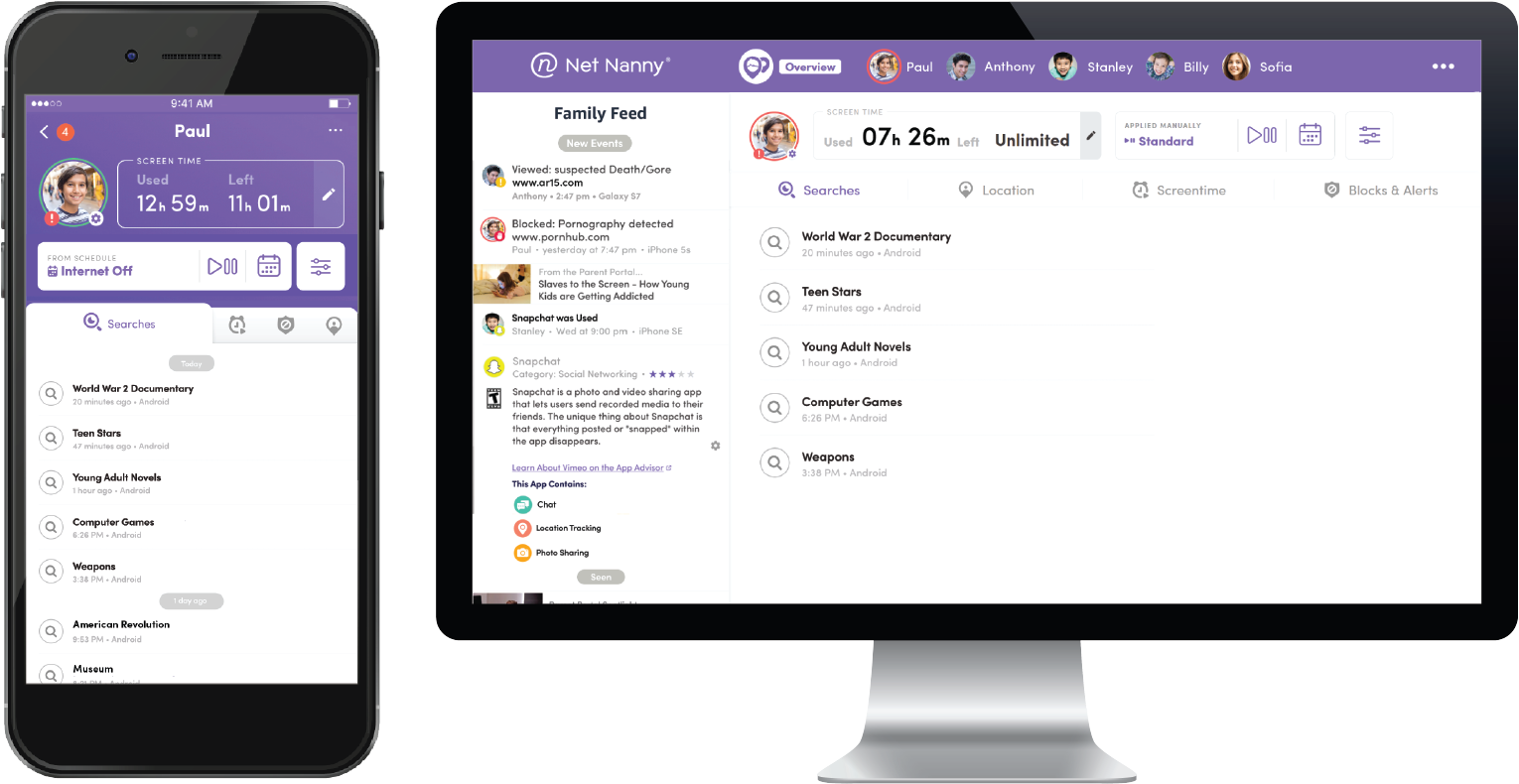 Detailed Reporting
With its family feed and parents dashboard, parents can track each digital device used in real-time and allow parents to access and manage their parental setting for each device.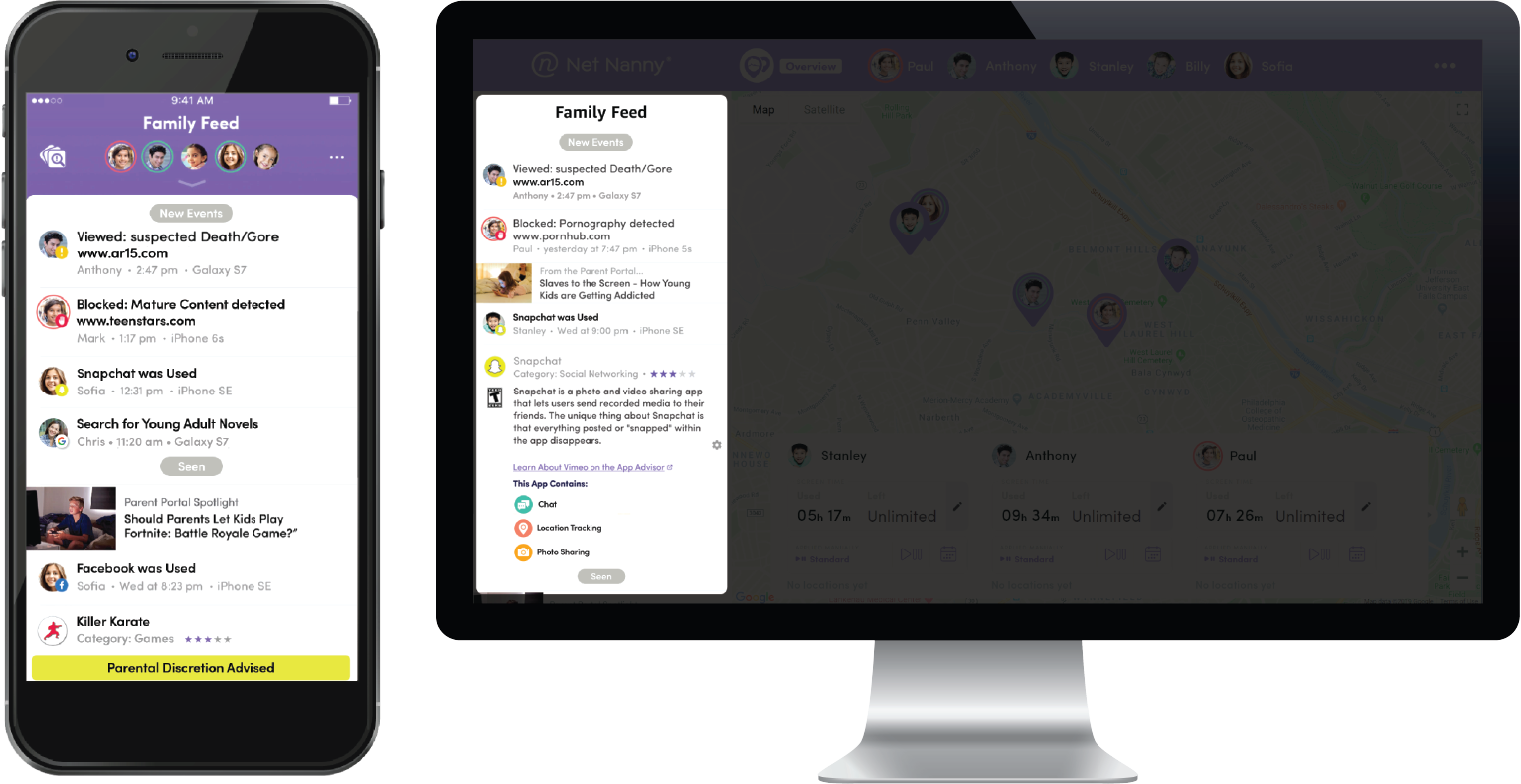 Does Net Nanny Have A Trial Period?
After you have installed the app, you have access to a free trial that will enable you to enjoy the app's full features for 14 days. Awesome, right?
Net Nanny iPhone Review
Net Nanny requires an iOS of 12.0 or later to run on Apple devices but a macOS of 11.0 or later and a Mac with an Apple M1 chip to run on a Mac. It has a size of 50.5MB and is available in English, German, and Japanese languages.
Net Nanny Android Review
Net Nanny is a 13Mb file on Google Play Store which requires an android version of 5.0 and above to run on your device. Its content is rated as suitable for everyone.
Net Nanny Cost And Pricing
This app is available under three subscription packages which are 1 desktop protection plan for PC and Mac at $49.99 per year, 5 devices plan for PC, Mac, and Mobile at $79.99 per year, and the plan for 20 devices for PC, Mac, and Mobile at $129.99 per year. They have a 30% discount offer for a limited time and have a family protection pass that adds Android, iOS, and Kindle Fire availability for the plans on the 5 and 20 devices.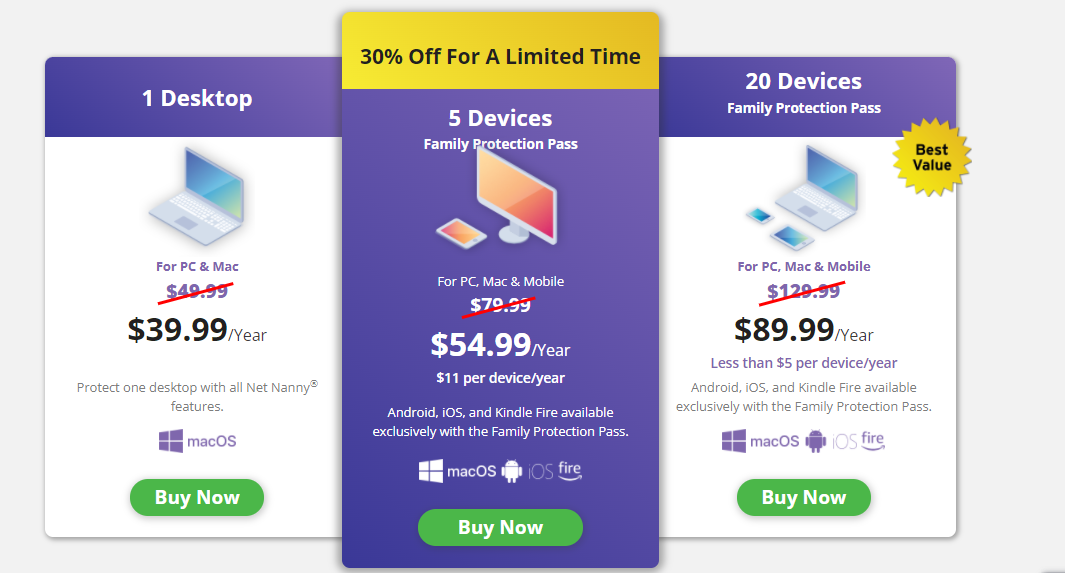 Alternatives to Net Nanny
Net Nanny vs. Bark
Bark provides parents with the tool they need to raise their kids in this digital age. Its features enable parents to monitor the content they consume, manage their screen time, and filter the websites they visit to ease their worries.
Net Nanny vs. Keepers
Keepers is a relatively easy-to-use app for parents who intend to build healthy and safe relationships with their kids and family at large. It protects their privacy, including their private chats.
Net Nanny vs. FamilyTime jr
FamilyTime Jr is an app that allows parents to be flexible in controlling their kid's screen time. It is meant to prevent kids from wasting their time unnecessarily on their smartphones and tablets.
Net Nanny vs. Safe Lagoon
Safe Lagoon as a parental control app helps parents protect their children online, manage their screen time on their devices, and keep them safe from preying or online trolls and predators with abusive content.
Net Nanny vs. MMGuardian
MMGuardian provides comprehensive parental control on their children's Androidmonitordevices. With this app, parents can monitor and block text messages, picture messages, and more with its parental control features.
The Good and The Bad
Pros
Adequate social media monitoring
Manage screen time
Accuracy location tracker
Block unwanted apps
Provision of internet filters
Block unwanted websites
Parental control feature
Block pornographic contents
Provides instantaneous alert and detailed reporting
Adequate parent dashboard with details on devices covered
Provision of social media protection.
Monitoring of contents consumed on YouTube
Cons:
Apps might not be permanently blocked.
Problems with MDM validation
Not easily fixable when issues arrive
App might not follow your planned screen schedule
Irregular time and location updates
Inadequate customer service.